Enhance Your Beauty with Our Med Spa Skin Treatments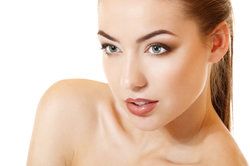 Dr. Louis Mes can refresh your skin and correct imperfections with a complete range of minimally invasive and non-invasive skin treatments at ourLafayette practice. To learn more about our skin treatments or schedule a consultation with Dr. Mes, contact our office today.
Chemical Peels
We use chemical peels to reduce wrinkles, discoloration, blemishes, scars, sun damage, and roughness. In general, chemical peels cause mild irritation and redness for several days as the surface layers of cells slough off, revealing rejuvenated skin.
The five types of peels we offer include:
Laser Skin Procedures
We offer three laser skin procedures, which use precise, powerful bursts of light to improve your skin:
Laser Genesis . During treatment, we direct pulses of light at specific areas to encourage collagen production, which can reduce the appearance of sun damage, rosacea, roughness, and wrinkles. This procedure lasts less than an hour and does not typically cause discomfort.
Laser hair removal . Laser hair removal can eliminate the roots of hair follicles to reduce the amount of hair that grows. Typically, patients undergo laser hair removal treatments every six weeks until they achieve their desired results.
LimeLight™ . This treatment uses an IPL (Intense Pulsed Light) laser to fragment pigmentation in your skin. The damaged, discolored skin cells slough off several days after treatment.
Other Treatments
Dr. Mes also performs other skin treatments to enhance your appearance and self-esteem.
Skin Pen . In addition to chemical peels and laser treatments, Dr. Mes can address the effects of aging and sun damage with Skin Pen. Using fine microneedles, paired with a special serum, he can remove damaged layers of skin. Your skin may appear slightly red for the week following treatment. It should become firmer and more even over the next few months.
Permanent Makeup . Our aestheticians can apply permanent makeup, subtle tattoos that enhance your features for many years to come. Our precise handheld machines allow added pigment to integrate with your natural complexion for excellent results.
Improve Your Appearance with Skin Treatments
Contact our office today
to schedule a consultation with Dr. Mes.